How we work
Proven work practices and
a structured wearables development process
Proven work practices
Our procedures are rooted in proven theories, such as Design Thinking and Scrum. We work in iteration cycles that incorporate continuous testing, while our Agile work method ensures we always remain in sync with our partners. Together with the modular building blocks we have developed, this minimises development time and risk. You can read more about our working practices here.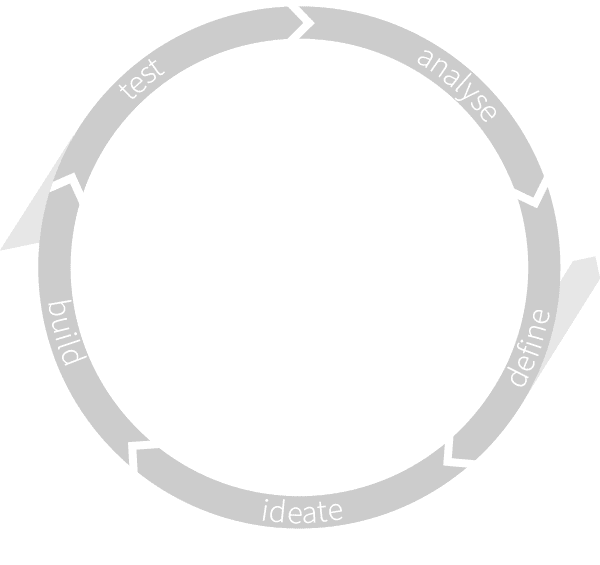 The Elitac Wearables development process
Our 8 years' experience developing successful wearables and technical expertise help us make the development process as predictable as possible. We can develop wearables from and to any stage of the development process: all the way from idea to scaled production, from prototype to first series, just a quick Proof of Concept, etc.
1 – Feasibility check
Goal: To verify the feasibility of connections, (conductive) materials to be used, integration techniques, etc.
Deliverable(s): Feasibility report, rough indication of next steps, timelines, recommendations, proposed solutions and technologies, etc.
Finished when: The wearable is deemed (in)feasible.
2 – Proof of Concept (PoC)
Pre-requirements: Technology and application must be feasible.
Goal: To construct a basic version of the product with off-the-shelf components and Elitac Wearables building blocks. The PoC can be used to test key functionalities, define requirements and obtain initial market feedback and attract partners or funding.
Deliverable(s): Proof of Concept that includes key functionalities, basic form factor / configuration (e.g. shirt, vest, belt, etc.).
Finished when: The PoC demonstrates in the most elemental way that the product is feasible, and the key functionalities and form factor are clear and acceptable.
3 – Pilot samples
Pre-requirement: Must have PoC and clear definition of functionality and form factor requirements
Goal: To build a limited series of functional pilot samples to test functionality and design among end users, in controlled conditions.
Deliverable(s): 2-10 pilot samples that include all required features and which have the definitive form factor.
Finished when:  The pilot samples are tested and fulfil end user and client needs/requirements.
4 – Prototypes
Pre-requirement: Pilot sample that has been user-tested under controlled conditions to ensure all required features and form factor are clearly defined and accepted by end-users and the client.
Goal: To build a prototype that functions independently in uncontrolled user tests.
Deliverable: 5-30 final prototypes that can be used for field testing, clinical validation, etc.
Finished when: Product design has passed user validation and pre-certification tests.
5 – First series
Pre-requirement: Prototype that has passed user validation and pre-certification tests.
Goal: Produce a limited series (30-50), suitable for certification, sales and initial market exploration.
Deliverable: 30-50 market-ready products & product design that has passed certification tests and is suitable for small-scale production.  
Finished when: The wearables is certified and has passed final user tests.
6 – Scaled production
Pre-requirement: Product design suitable for small scale production
Goal: Produce peripherals, documentation and a product design suitable for large-scale external production
Deliverable: Product design suitable for large-scale production. Production series delivered, including peripherals and documentation.
Finished when: Large-scale production is concluded successfully.
Join in funded research projects
Together with innovative or thought-leading partners, we endeavor into R&D projects to find new technical solutions and push the boundaries of wearable technology. This allows us to stay at the forefront of innovations in our field.
Invest in innovation
When we come across an interesting (start-up) project or idea, we sometimes invest ourselves to make that project come true.
Do you have a life improving wearable idea, but you don't know how to start or whom to turn to? Contact us and we can explore the opportunities over a cup of coffee!
Contact us
If you would like to learn more about our product development services, please contact us or leave your details in the form below and we will be in touch as soon as possible.