Wearables Lab
The Wearables Lab is our in-house showroom, experience centre and workshop, all-in-one.
What is the Wearables Lab?
The Wearables Lab is our in-house showroom, experience centre and workshop area. Our Internal multidisciplinary R&D team delivers aesthetic and function-driven product development, translating results from scientific research into practical applications. The in-house disciplines include: electronics, hardware, software, product design and textiles, resulting in smart wearables. We do this for partners and clients in differing markets and fields such as: medical, safety, sports and first responders.
By developing in short design cycles called sprints in close contact with our partners and clients, we start from idea to proof-of-concept (PoC). From there, we integrate prototypes and first series in a very short time span.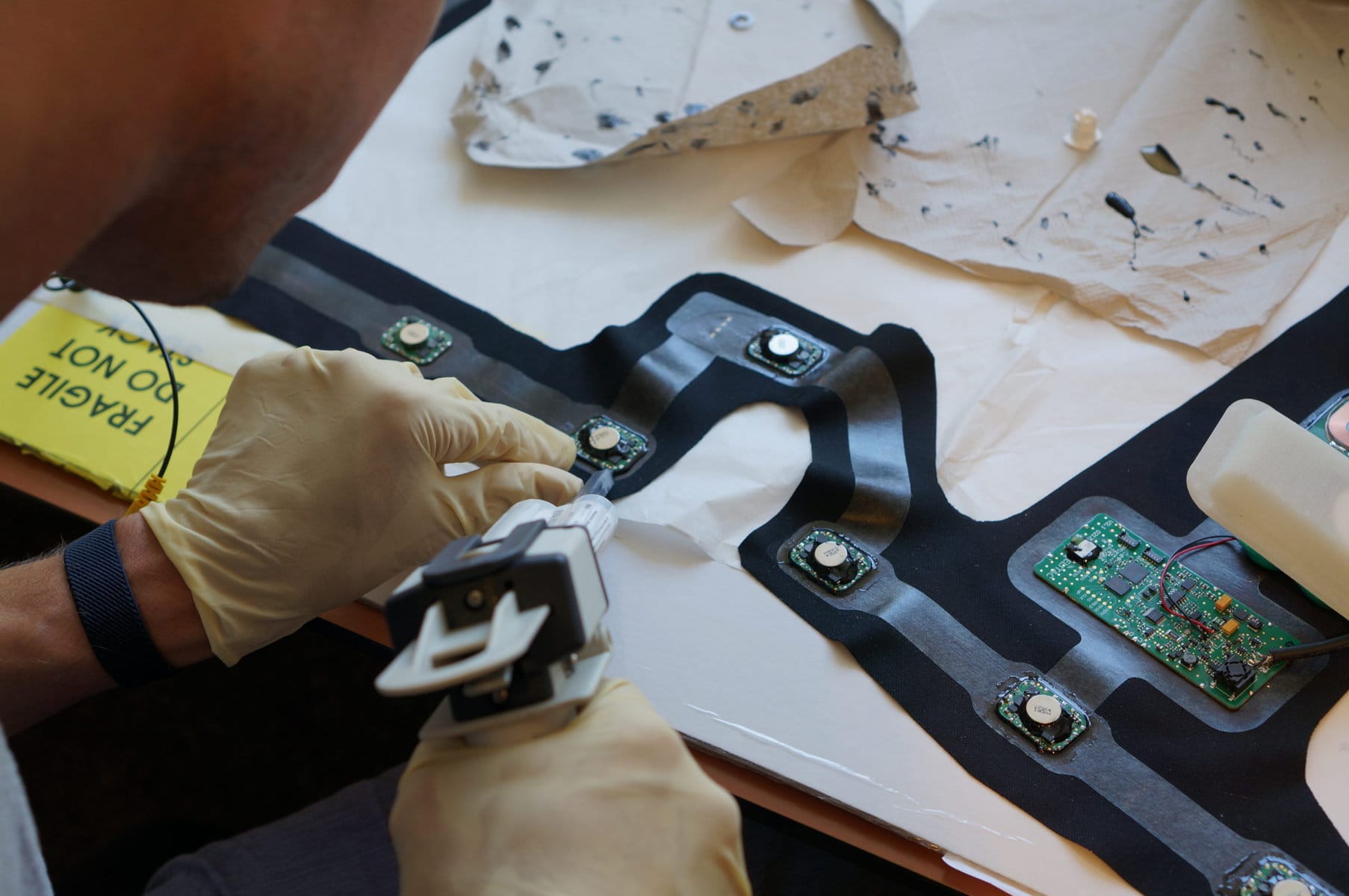 Research & Development
In our lab we have a large set of demonstrator hardware and applications available to quickly test your initial product ideas.
Our team is constantly looking to improve our existing electronics integration technique as well as looking into new techniques on how to integrate electronics in garment. We are looking how to push current limitations of the techniques and make it more widely available; larger electronic circuits, different fabrics, etc.
Demonstrators available to quickly test ideas
Improve stretchable electronic integration technique; robustness, washability, possibilities
Investigating new techniques such as printing, weaving etc
Testing
In our lab we have several testing facilities available to perform electronic circuit, robustness and washability testing.
Electronic circuit testing
Washability and robustness testing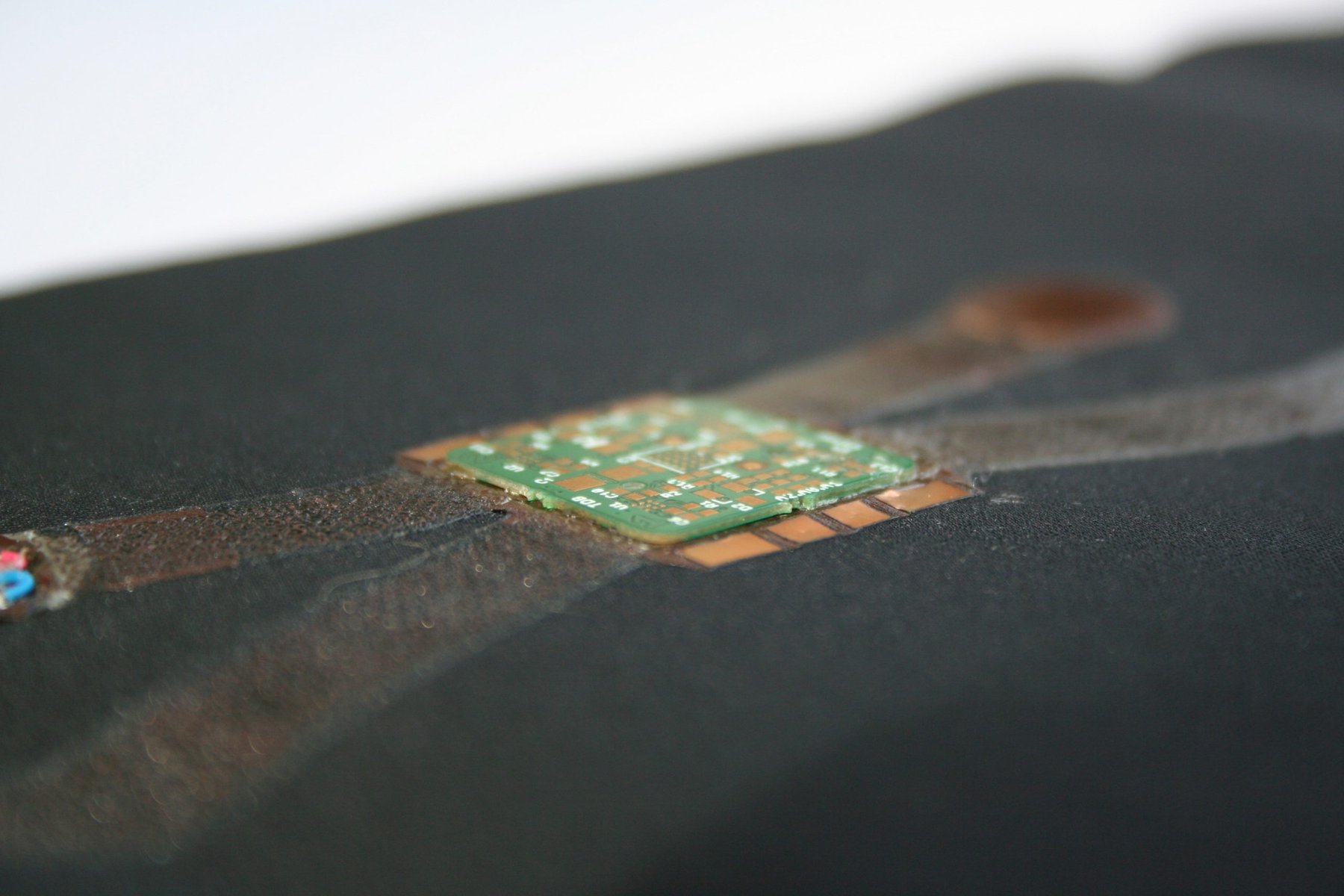 Prototyping
We enable partners to develop a wearable prototype in two weeks (depending on your design).
In our lab we work with building blocks of e.g. stretchable electronic circuits, wired electronic circuits, control boards and garments. These building blocks can easily be connected in different setups to quickly work towards a prototype.
We have in-house possibilities for PCB assembly, electronics integration and garment construction.
Our prototypes are suitable for research purposes as well as testing with end-users, to for market verification and usability.
Rapid prototyping within 2 weeks, depending on your design
Prototype series of 1-5 pcs
Production
For larger series, we can help you to set-up a first production batch. Together we work towards a silver prototype. In this process, as well as in our prototyping phase, we strive to work with scalable production techniques. The last step before production is a golden proto, with exact specifications as the final product. Hereafter we will start a first production serie of 50-100 pcs, partly done in-house or together with partners. For larger series we have a network of production partners ready to join in.
If certification is required for your product, we can help you with technical documentation of the product and subcomponents.
Production of silver / golden proto's
Scale up production of 50-100 pcs
Network of production partners available for series >500 pcs
Experience with technical documentation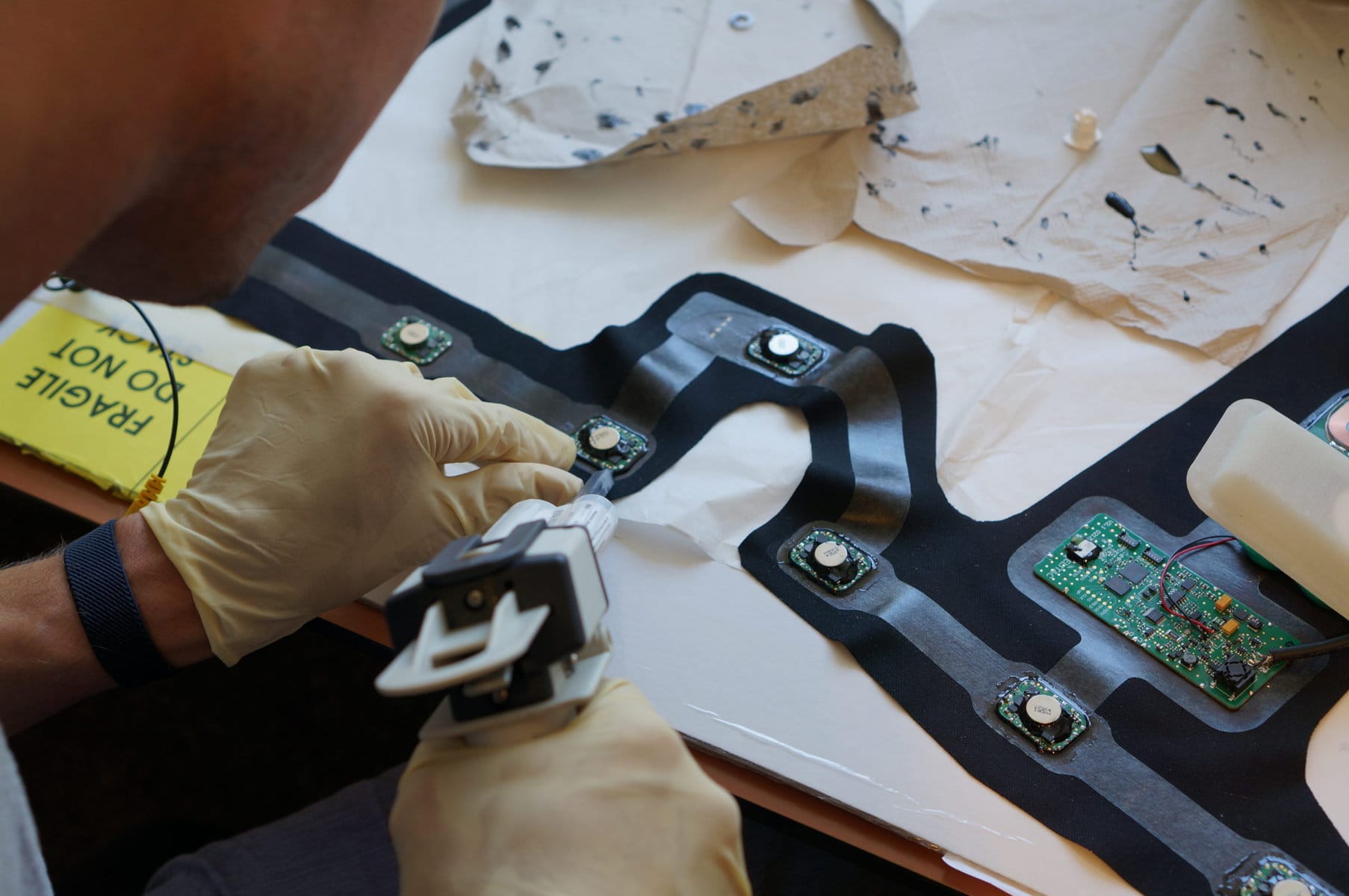 Why innovate through our Wearables Lab?
Use our state-of-the art stretchable electronics technology without the risks and time-intensive R&D.
Reduce Product Development Risk: Validate ideas and business case early in development process, by using our hardware + firmware building blocks to make prototypes in just 2 weeks (depending on your design).
One-Stop-Shop: We are a multidisciplinary team, with in-house expertise on electronics hardware, firmware, design, human factors, industrial design, textiles, production and business development.​
Reduce time-to-market: Our lean development process allows us to quickly move through development steps. Once final design is confirmed we have our production partners lined-up and ready to start.
We facilitate the crossover between electronics- and textile production facilities.We make the link between these two worlds, that both have individual production processes that are difficult to match.
Whitepaper: The challenge of Wearable Innovation
Wearables have made their way to consumers through smartwatches, fitness bands, jewelry and accessories.
The next level of wearables, wearable garments, are yet to come but market implementation is delayed by "the Wearable Gap".
​Read our whitepaper that discusses the history and future of wearable garments and which challenges need to be overcome to make wearable garments widely available.