What if you could
keep your engineers safer?
Case study: Developing a smart safety vest
with continuous end user involvement
The SmartShoulder project
We developed the SmartShoulder – a smart safety vest that features an integrated panic button, man-down alarm & automatic lighting – for partners Teijin Smart Safety and HAVEP Workwear/Protective wear.
Keeping the end users front and centre throughout the process, we moved from Proof of Concept to Final Prototypes in little over a year. Launching customers (utility companies) are now performing the final uncontrolled user tests, after which we will move towards a design for manufacturing in the First Series phase.
Interested in purchasing the final product? The SmartShoulder hardware and accompanying software subscription will be available to purchase via HAVEP soon.
Read the case study
Case study: Developing a smart safety vest with continuous end user involvement
Prototypes constructed in-house
Months Prototype field test
Background
Our client
Our client and partner Teijin Smart Safety develops and commercialises intelligent solutions that improve the safety of professionals working in high-stress or hazardous environments.
To achieve this, they collaborate with universities, research institutes and innovative scale-ups. Our long-term partnership allows us to combine their extensive network with Elitac Wearables' expertise on developing wearables from idea to market.
Why a smart safety vest?
Service engineers often work alone. In the case of accidents, it can take a long time for help to arrive. And if medical treatment is delayed, recovery often takes longer, or it may be too late altogether.
"I usually work on my own. If I fall down and lose consciousness, there is no one to call emergency services or notify HQ."
Additionally, engineers' work environments are often dangerous, with variable lighting, and a host of fall, slip and trip hazards. They need to light their work area, but also require the use of both hands to handle their tools and move around.
The SmartShoulder solves these issues:
It is a smart safety vest that can detect when the wearer is in a 'man-down' situation, and if so, make an instantaneous emergency call. The alarm can also be actively triggered by the wearer whenever he or she feels unsafe.
Furthermore, light sensors continuously measure the environment's light strength and activate the integrated LED lights proportionally to

make the work area fully visible

.
The challenge
As project owner, Teijin Smart Safety brought together quality workwear experts HAVEP for the textile part and Elitac Wearables to develop the hardware & embedded software, and integrate it with the textile carrier.
The challenge? To design a safety wearable for service engineers that was:
Solution
The first step was to upgrade the existing Proof of Concept (PoC). Thanks to Teijin Smart Safety's network of launching customers, we were able to consult end users throughout the development process. This ensured we designed a safety wearable that was both needed and wanted.
Q3 2020: Pilot Samples for controlled user testing
Next, we designed and built three Pilot Samples for controlled user testing: In this phase, we used our hardware and software building blocks and built new components ourselves in the Wearables Lab,  to save time and make quick design adjustments. Our hardware specialists adapted the hardware building blocks (connectors, PCBs, etc.) to the use case while the software team modified our custom operating system for wearables (TacOS) to control the SmartShoulder hardware.
Meeting the design requirements
The design requirements were met as follows:
To ensure that the vest is safe and comfortable to wear and easy to put on, we integrated the wiring and electronics into an inner textile layer.
By keeping the wiring and electronics easily detachable and re-attachable, we achieved the necessary

washability of the textile carrier

.
Designers at HAVEP constructed three different versions of the textile carrier, and Elitac Wearables' designers employed a mixture of integration techniques to integrate the hardware into the soft, flexible textile.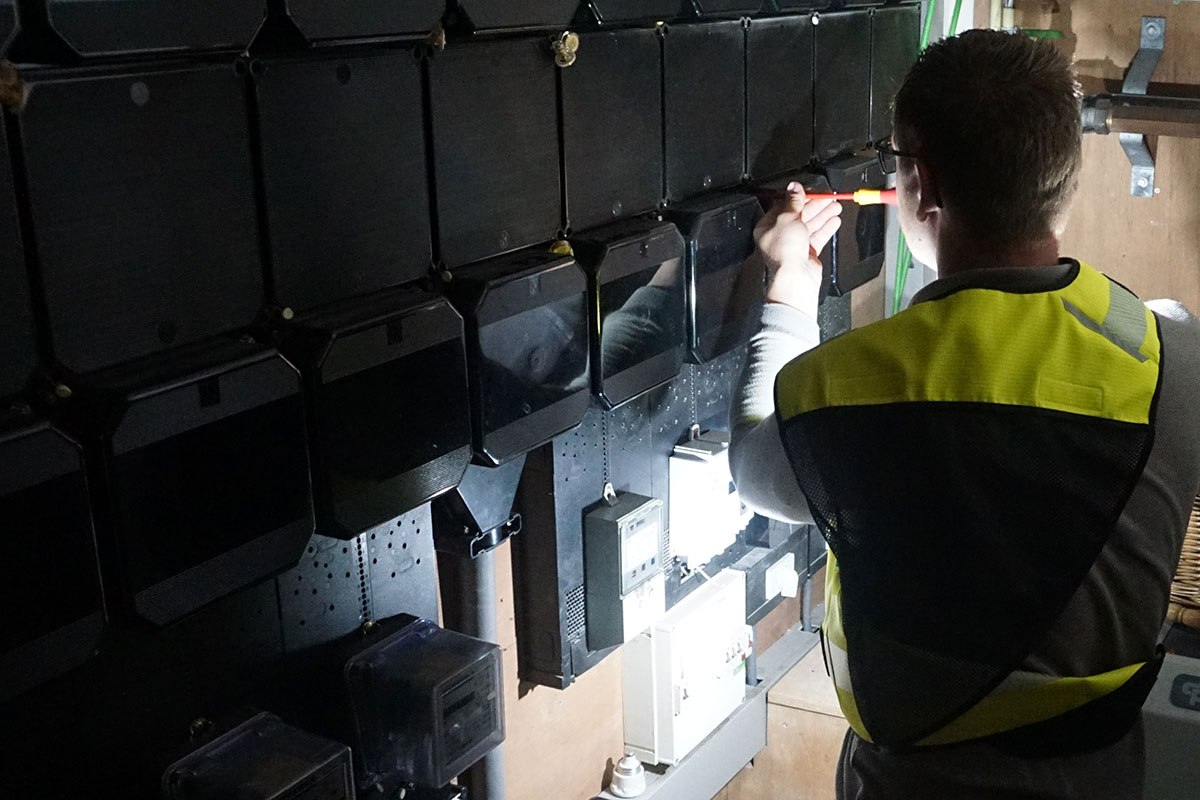 User testing the Pilot Samples
The feedback was very positive: Engineers said the SmartShoulder made work easier because their workspace was fully illuminated and visible, and it left both hands free for other tasks. They also commented that the light was bright enough to do their work, without too much shadow.
"It is very useful to have your hands free to do your work and your work area properly illuminated at the same time."
The next step was to test the design in a real-life situation: Teijin organised controlled user tests in which service engineers wore the SmartShoulder during a regular working day. A designer from Elitac Wearables or HAVEP was also present each time to ensure the feedback could be fed back into an improved design straight away.
Q1 2021: Final Prototypes for uncontrolled user testing
Design improvements
With the insights gained from the controlled user tests, we made several design changes to improve comfort and usability:
Among others, we designed a smaller and lighter casing for the control module and developed custom code to optimise the software interface. The latter ensures that the panic button and man-down alarm trigger the appropriate emergency calls in the Teijin SmartShoulder app.
We also adapted the cable lengths and standardised the size of the lights, sensors and panic buttons. This means that the location of these parts on the vest is now completely customisable to each wearer's preferences.
Preparing for large-scale production
Once we arrived at the Final Prototype design, we began preparing for larger-scale production:
We set up traceability documentation, assigning batch and serial numbers to all the parts and finished products. A vital step in moving toward production at scale, this improves quality control, reduces risk and increases supply chain visibility.
To maximise efficiency and minimise the potential for errors, we further began automating production steps as much as possible, such as software installation, batch scanning, etc.
We sourced the majority of parts from specialised long-term suppliers, with one party soldering the hardware strings, another one producing the hardware housings and another one responsible for injection moulding the rings that hold the lights, sensors and panic buttons.
Production at our Wearables Lab
We then assembled 50 prototypes at our Wearables Lab in 2 weeks' time. These units were sent out to the three launching customers (utility companies), where engineers are currently putting them through their paces in a 3-month long field test.
Q4 2021: Toward scaled production
The next steps, toward First Series production, are already underway: Elitac Wearables is working on certification (EMC testing) and overseeing the process of finalising the design for manufacturing with an external consultant.
With their experience in quickly developing concepts into market-ready wearables, Elitac Wearables was the logical and proven product development partner for the SmartShoulder project.
John Vlaming, Teijin Smart Safety
Teijin Smart Safety offered visitors to the A+A Dusseldorf 2021 trade show a chance to demo the Final Prototype at their stand. For more information about the SmartShoulder, please contact Teijin Smart Safety. The SmartShoulder hardware and accompanying software subscription will be available for purchase via HAVEP soon.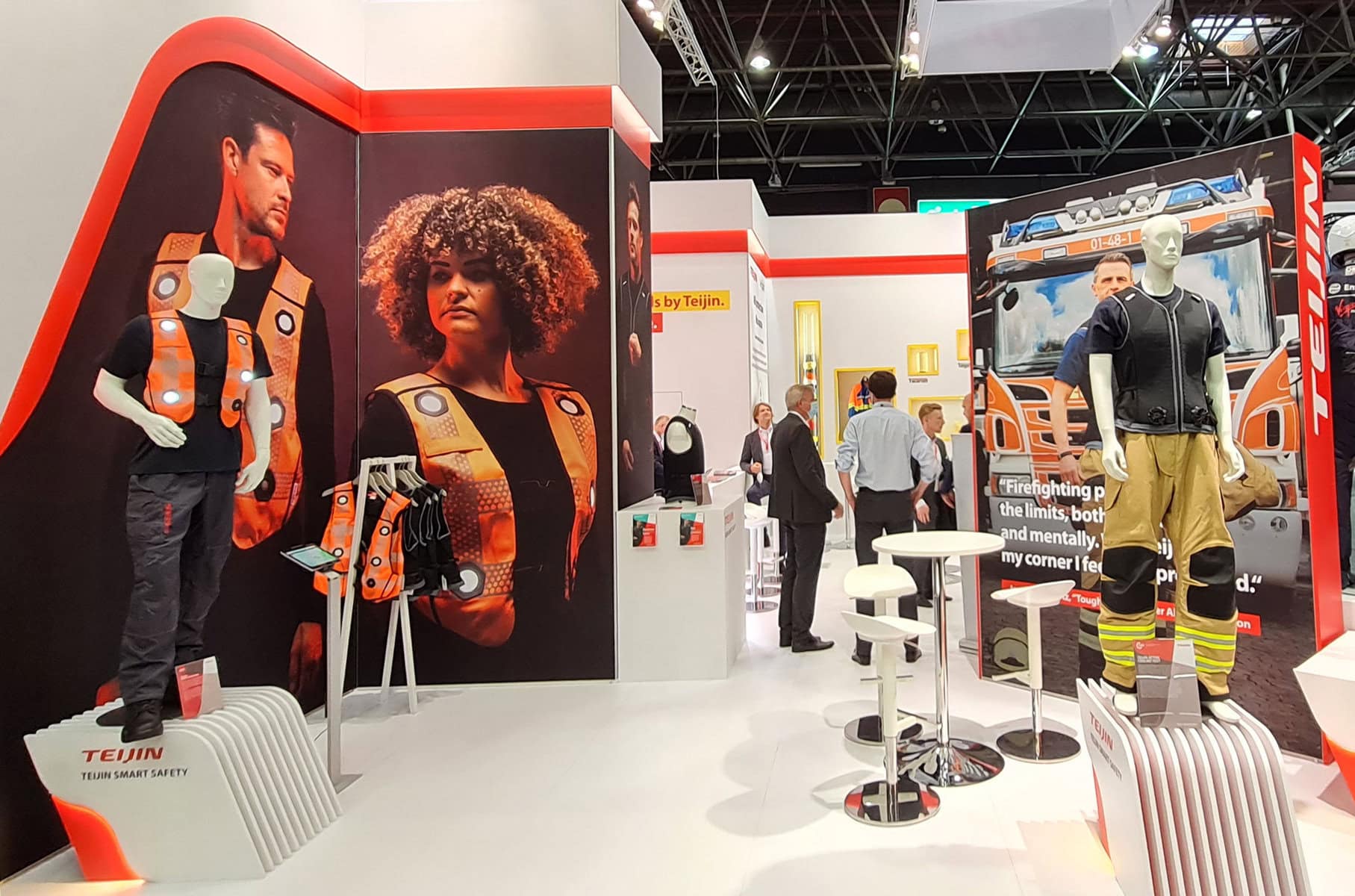 Developing a safety wearable